The Archaeological Site
---
During the excavation work for the new Lavazza Corporate Management Centre, archaeologists discovered the remains of a funerary church at the corner between Corso Palermo and Via Ancona. It dates back to early Christianity and had originally been built over a necropolis which once stood on the same site.
In collaboration with Cino Zucchi Architects, the Nuvola project was modified to protect this surprising and important discovery. The church, with a single nave measuring 12.70m by 20 m, has a series of tombs, both inside and outside its perimeter. Dating the complex is problematic, but its architectural features suggest the period between the second half of the 4th century and the 5th century AD. It may be the church dedicated to Saint Secundus the martyr, whose relics were moved inside the city walls, when it was under the threat of Saracen invasion, at the beginning of the 10th century.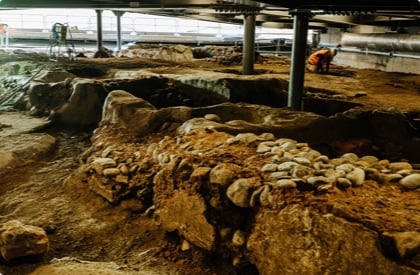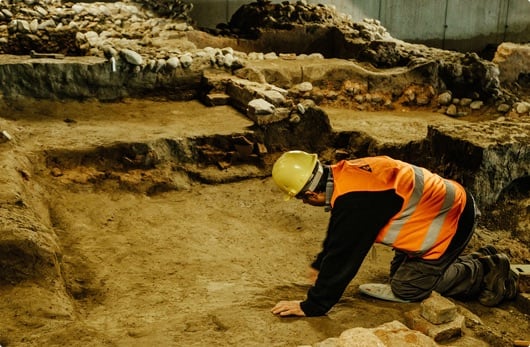 The archaeological area identified is 1,600m2 wide, 400 sqm of which is located under the new Lavazza Corporate Management Centre. A glazed zone at street level and scenic lighting will enable passers-by to see the remains of the basilica.
Lavazza, the city of Turin and the Soprintendenza Archeologia del Piemonte signed an agreement, in July 2014, to develop and enhance the archaeological site. To ensure the effective preservation of the area, a metal cover with wooden panels, treated with a dense but light vegetal coating applied to protect the archaeological site from the sun and to facilitate the run-off of rainwater, was designed. A path with informative signs enables the public to visit the site along Via Palermo and at the corner with via Ancona.